When the weather is warm and comforting or chilly and cozy, there's no greater pleasure than eating your favorite meals al fresco. If you have a patio, this is the best place to dine out with the family or celebrate special moments with friends and other loved ones. Regular patio table settings will do for any event, but it pays to go beyond your traditional outdoor table setting for a better look.
Make the most out of your outdoor space by being more creative with your outdoor dining table settings. With the pandemic ongoing and encouraging everyone to get more fresh air, it's best to maximize your yard by mixing and matching your outdoor table décor.
How Do You Set Up an Outdoor Table?
You can style your patio table settings in many ways, from an outdoor farmhouse décor to an international flair. A little creativity, plenty of patience and eagerness to be resourceful (or to buy, if you have more room in your budget) can help you level up the look of your outdoor table décor.
Here are some ideas you can consider.
Vibrant Colors
If you're not a big fan of the minimalist approach to table settings, go wild with colors. Set your table with vibrant shades of orange, yellow and pink. This type of table setting makes your table come alive, which is a refreshing change from the basic white color.
Romantic with Flowers
Are you preparing for a romantic date? If you have space in your budget, hang some camellias over your outdoor dining table or patio furniture. You can't go wrong with florals. Dress your table in linen, add some candles and finish the look with an old-fashioned bowl.
Layered Look
Layered textiles give your table a patterned look. If you're feeling experimental with the design, place a striped tablecloth over the table.
Sea-Inspired
Draw inspiration from the sea by filling your table with watery hues and glimmering objects. Add iridescent table settings to make the entire experience exciting.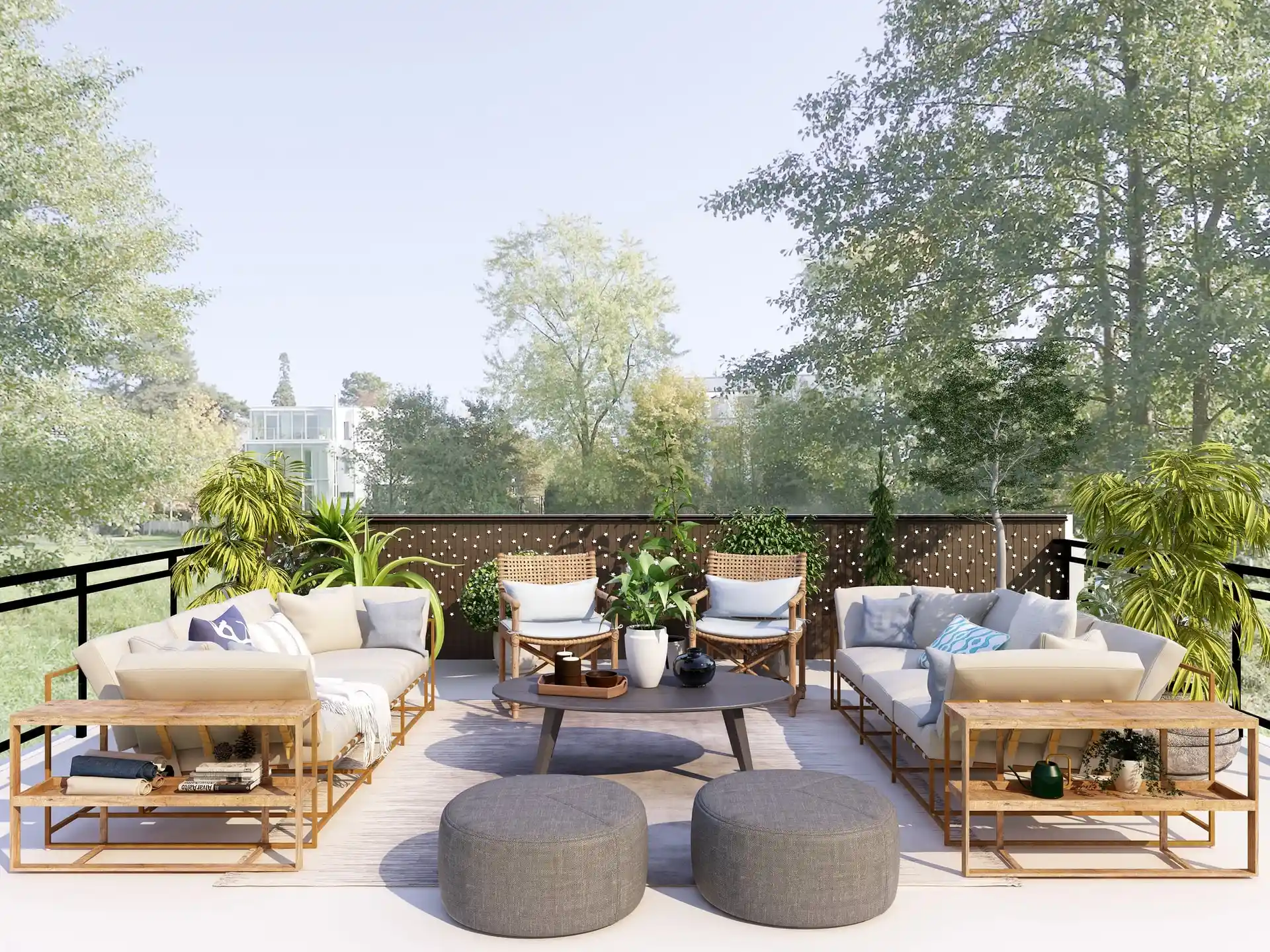 How Do You Make a Good Table Setting?
It starts with your preference: what design do you have in mind? Consider the following patio table setting ideas.
Vibrant and Colorful Table Setting Ideas
If your dining event is casual, forget the traditional rules of pastels. Skip the formal dinnerware by going for plates in bold hues. If your table setting includes bowls and plates for different courses, choose a different bright color for each course to give each course a slightly different feel.
Also, select table napkins in vibrant prints or fun colors. If you want, you can also mix and match the patterns around the tables. Colorful flatware can also add more life to your outdoor dining experience. With glassware, look for glasses in different bright shades for a festive and fun look.
All-Natural Outdoor Table Setting Ideas
Your garden can serve as an inspiration for your outdoor table décor. Start by placing a pastel-colored tablecloth to create a gorgeous and subtle backdrop for the rest of your table. Add some fun texture to the arrangement by placing a natural fabric like muslin or burlap over your tablecloth.
As for the florals, skip the florist and use what's growing in your garden. Apart from the traditional flowers, consider how each wildflower, scalloped leaf and sprout can improve your tabletop decoration.
For a more eclectic feel, use teacups, mason jars and empty wine bottles. If you want to maximize the visual impact, use different heights and shapes.
Themed Outdoor Table Setting Ideas
Make an impact at your next outdoor gathering by creating a theme.
Here are some of the most popular outdoor table setting themes:
Nautical. Drape your table in a nautical chic style with colors of white and navy. Use white and navy striped table runners paired with cloth napkins and sailboat-patterned tablecloths. You can also wrap wooden chairs with fishnets, as well as wrap blue candles with raffia for style and texture.
Beach time. Put your shells to good use by using them for napkin rings. Decorate silver bands with shells. Also, scatter scallop shells or starfish across the shell pink, seafoam green or neutral tan tablecloth. If you want to go extra, fill glasses with sand and top each with tea lights.
All of these ideas are just skimming the surface. There are many other patio table setting ideas that ensure yours will be the most memorable for your next outdoor event. All you need is a budget (or resourcefulness if you want to stay budget-friendly), patience and plenty of creativity.