Incorporate natural elements such as wood, natural fibers, and greenery to create a rustic atmosphere.
Mix and match materials like metal accents, cotton fabrics, and burlap curtains for an effortless decor effect.
Uncover vintage pieces from flea markets or antique stores to add charm and character to the space.
Incorporate textiles and patterns such as linen curtains, patterned rugs, chunky knits, and velvet throw to introduce texture and warmth.
Layer different textures together to achieve balance and depth in the home.
Adding a cozy rustic feel to your home can be an enjoyable and easy way to transform your living space's atmosphere totally. Whether you're aiming for a complete rustic makeover or just want to incorporate some elements into an existing style, there are many creative ways to achieve your desired look. From natural materials and textures to color and lighting, these five tips will help you create the perfect rustic look for your home.
1. Incorporate Natural Elements
Nothing says 'rustic' quite like natural elements. Wood is the classic choice for creating a warm and inviting atmosphere, as it instantly adds texture and depth to any room. Whether you choose distressed floorboards or raw timber furniture, wood will help bring that rustic charm alive. Of course, wood is not the only natural element you can use to achieve a rustic feel. Natural fibers such as jute, linen, and wool are all great for adding homeliness and texture, while greenery like large leaves or branches will introduce an earthy touch.
Here are some natural elements you can incorporate into your home design:
Wood
Wood is the ideal material for creating a rustic atmosphere in your home. It can be used to make furniture, floors, decor items, and more, adding an element of warmth and texture to any room. Choose distressed floorboards or raw timber furniture to bring out the beauty of wood's grain and color. When revamping your walls, you can opt for Barnwood interior walls for a unique look. This will ensure that the walls are durable and long-lasting while bringing a sense of character to your living space.
Natural Fibers
Natural fibers are perfect for creating cozy spaces filled with texture and depth. Jute, linen, and wool fabrics all add homeliness without breaking the bank and are a great way to make your home feel inviting. Choose natural fiber rugs, throw blankets, and cushions to accessorize your living space or bedroom. Cotton or burlap curtains can also help introduce that rustic charm.
Greenery
Incorporating greenery into your design is an easy way to bring the outdoors in. Large leaves, branches, and plants will instantly create an earthy atmosphere while adding warmth and color. Place potted plants around the room for an effortless decor effect, or hang dried flowers from the ceiling for a boho-chic look. If you want something more permanent, choose larger pieces such as vines and shrubs for a garden-like ambiance.
Metals
Metal accents are a great way to bring warmth and character to your home. Copper, bronze, and brass pieces can be used as decorations or furniture, adding an industrial touch to the room. You can also hang up metal lanterns for mood lighting or choose distressed metal wall art for a unique look.
2. Mix and Match Materials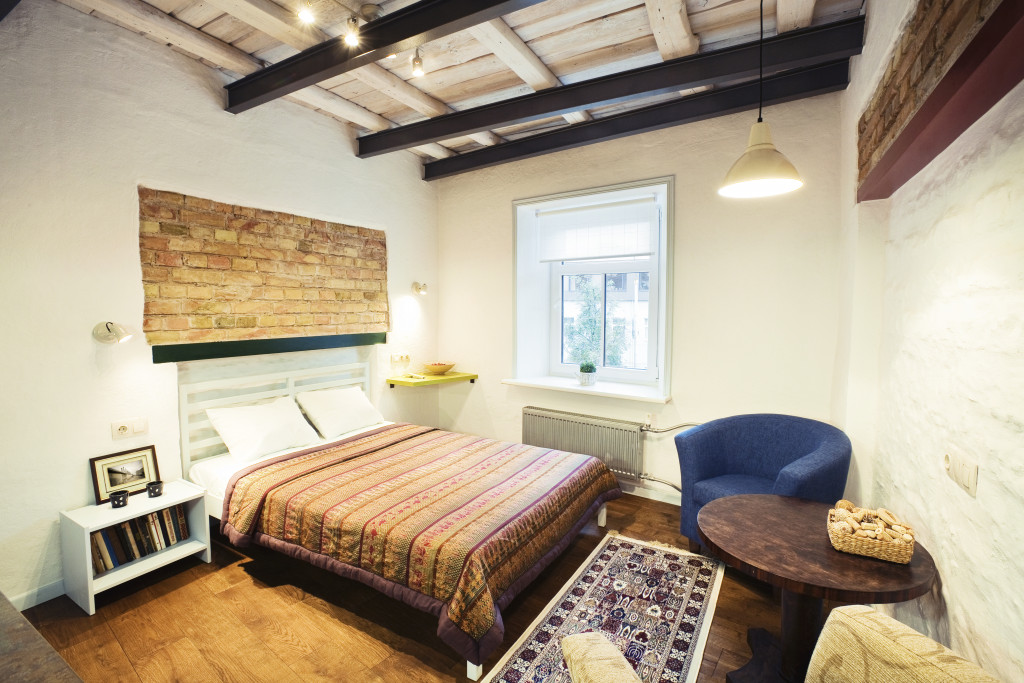 Don't be afraid to mix different materials when creating a rustic feel. Combining raw wood with metal accents will help create interest and texture in the space while introducing chunky ceramics into your decor will bring a sense of age and history to the room. The key is finding pieces that work well together without looking too contrived — go for imperfect shapes and sizes so each piece feels unique.
When it comes to the colors of your rustic space, create a natural palette by combining earthy tones like browns, greens, and beiges. Think about adding texture with velvet or linen fabrics for furniture upholstery or curtains and weaves for rugs. Layer these elements in a way that makes sense for the space. For example, pair rustic woods with crisp whites and blues if you're going for a modern country look. But if your style leans toward the traditional farmhouse, go for warm colors like reds and oranges to bring the room to life.
3. Uncover Vintage Pieces
Vintage pieces add character and charm to any home, so it's important to incorporate them into your rustic design. Whether you choose a classic piece of furniture or an old-fashioned light fitting, vintage items will help bring the past alive in your space. Don't be afraid to explore flea markets and antique stores for unique finds that fit with the overall vibe you are trying to create — these can be treasures that will become family heirlooms in years to come. Alternatively, you can upcycle existing items or combine new and vintage pieces to bring warmth and character to your rustic-chic design.
4. Incorporate Textiles and Patterns
Textiles are often overlooked when designing a rustic space, but you should not underestimate them! Linen curtains or throws can instantly introduce warmth and texture to the room, while patterned rugs or cushions can help bring some color and personality to an otherwise dull space. Vintage-inspired prints such as florals, plaids, and stripes are great for adding a touch of classic rustic charm. For furniture, try using fabrics such as suede or corduroy for an extra layer of texture. Incorporating different textures and prints into a room's overall design can make a huge difference in achieving the desired rustic look.
5. Create Balance With a Layered Texture
Layering different textures is key in creating a cozy, rustic feel in your home. Introduce chunky knits alongside soft velvets and silks to add depth and interest to the space. Don't be afraid to mix different materials — think leather armchairs paired with linen curtains or wooden tables teamed with woolen rugs.
By layering different textures together, you will create a sense of balance and depth in the room. The juxtaposition of hard and soft elements will help make your home look inviting and warm. As a bonus, the extra layers also make it easier to add pops of color throughout the room. So don't be afraid to experiment with different textures — you'll be amazed at the result!
In Summary
Creating a cozy rustic atmosphere for your home doesn't have to be complicated. With these five simple tips, you can achieve that perfect rustic look with minimal effort. Incorporate natural elements, mix and match materials, uncover vintage pieces, introduce textiles and patterns, and layer different textures together — your space will take on a whole new personality before you know it!